Planning Your Group
Look for a healthy role model to be a facilitator
Many men are on the lookout for a positive, healthy male-role model. As previously mentioned, when over 2000 respondents to the Alberta Men's Survey were asked what types of support they would use, most stated that they preferred peer supports and talking with healthy male role models (Lorenzetti et al. 2016). As one man put it:
When a group facilitator demonstrates values like openness, acceptance, compassion, and flexibility, men can feel inspired to join a group to develop healthy relationship skills and learn to care for themselves and others. For example, the Alberta Father Involvement Initiative looks for "Dadvocates" or invested community members to provide and advocate for father-friendly spaces and to exemplify these ideas.
What about agencies without male workers/facilitators? A good facilitator can be someone from any gender, provided they embody characteristics of healthy living and advocacy for healthy masculinities, healthy relationships, gender equity, anti-racism, and anti-colonization.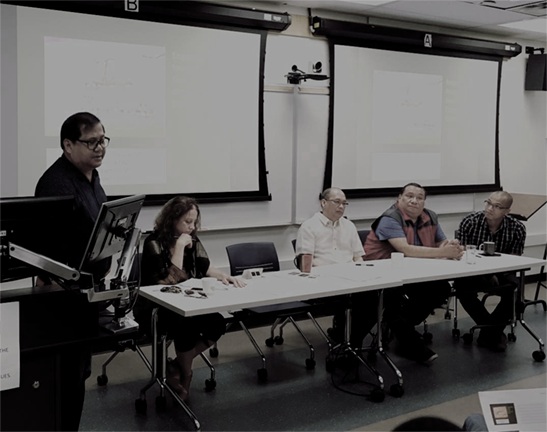 "When I first attended an AMN event all the men were very welcoming and gave me big smiles and even came up and gave me a hug. I knew this was a place where I was welcome. When I've attended men's events in the past, I'm used to guys not really making eye contact and kind of milling about and it usually isn't very comfortable. The welcoming atmosphere made a big difference and just set me at ease and I felt like my participation was welcomed and valued."
Exploring the "when" and "where" of group planning
Spend some time connecting with the men and families in your community to find out when they are available; involve them as partners in the creation of their own supports. They will likely share with you "what will" and what "will not" work depending on the type of group you are creating, and who you are creating the group for.
Determining the length and/or frequency of these groups and their meetings could be part of the framework on which the group is built, and offer a platform from which future topics and activities could be planned. There is no one-size fits all for any given community, so it is important to not 'default' to what we think we know from our own culture, faith, or community and think that it will work with everyone.
Host meetings in a welcoming, male-friendly space
Host meetings in either male-friendly or gender neutral environments (such as a library or community meeting room). Consider directly surveying the men in your community and including them in the creation of these safe and welcoming spaces. What colours, textures, smells, and themes resonate with the men you wish to support?
It is also important to keep in mind that the men who you are trying to engage may have a number of different responsibilities including paid work, caring for children and extended families, volunteer work, and self-care. Incorporating children's activities, child-minding and healthy activities into your group might make it more appealing. For example, a group that clearly states "Children Are Welcome" will send a strong message to men that you don't want them to have to choose between attending the group or spending time with their kids. As another example, the sharing of a meal builds community and will also be a pull for men and families who have busy lives and find it hard to sit down and take a break.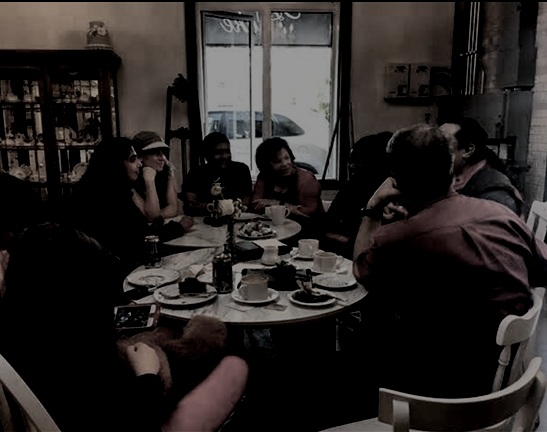 "We met in a local Somalian restaurant. The owners and staff were very welcoming and supportive. It was a place where men from the community would gather regularly for various types of events so hosting the meeting here made it comfortable and easy for men to attend or to drop in or learn about what we were doing."
Clearly and directly invite men to participate
It may not be clear to the men that you want to support that they are welcome in the programs and spaces you have created. For example, if not formally invited, some men may leave matters related to children and family to their partners. The result is that these men are unable to benefit from these services and many may not be aware that specific men's services exist. When inviting men to take part in services or groups, be direct and genuine, and supportive if they decline. They may not participate this time, but if they know they are welcome, they may well engage in the future. Open the door for them, and hold it open for next time.
It is important to note that although some generalities exist in working with men, effective engagement occurs first and foremost through interacting with and listening to the men in your community. The success of this relationship will be heightened if the unique aspects of culture, language, faith, and community are carefully considered and integrated. Men and their families hail from diverse backgrounds and experiences that may not be consistent with norms and expectations associated with mainstream western culture.
How do we find the men who are not presently involved?
The partners, friends, family members, and co-workers of the men you would like to include in your programs are important resources to consider. The men who responded to the Alberta Men's Survey stated that both family and friends are key supports. For example, you may decide to work with partners, spouses, and other family members of the men you wish to serve as a way of providing indirect support. In addition, provided you have contact with friends, acquaintances, and partners of the men you'd like to work with, you can give them information about your program or ask them to make an invitation on your behalf. These important people may also provide significant insight regarding changes you could make to your program to increase participation. Likewise, the men who are already in your group are likely to know other men who could benefit; make sure they understand that their friends, relatives, and acquaintances are always welcome.
If you have properly planned your group and group members are receiving value from it, it makes sense that they would want to share it with other men they care about. In summary, it is helpful to remember that men can be part of extensive personal or professional networks and that successfully engaging with one man can result in having a significant influence on many men.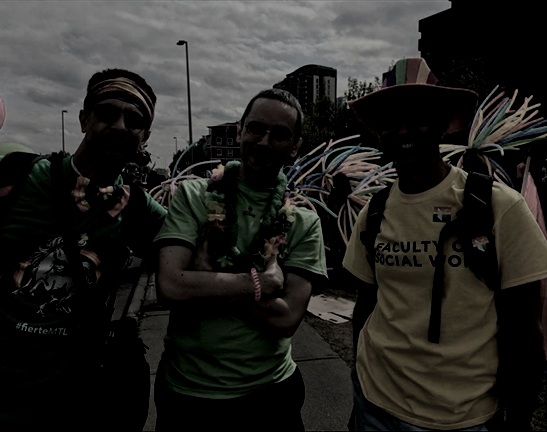 "Rad Dads is a grassroots organization made up of fathers that have a goal of promoting and modelling positive parenting, empowering dads and encouraging them to be involved in the lives of their children. In order to reach these goals, we set out to host quarterly "dads-only" (anyone that identifies as a father) meetings and "Kool kid" events centred around some sort of theme with the collaboration of various community organizations and businesses. The meetings are a place where dads can share experiences and learn something from each other in an informal and welcoming environment and the kid events are an opportunity for families to come together and bond.
The dad meetings are modelled with simplicity in mind. We reach out to a local craft brewery and ask them to provide a cask or samples for the night, procure some form of entertainment, identify and collect donations for a local charity and then end the night with a guest speaker centered around the chosen theme. In the months between the "dads-only" meetings we have organized the Kool Kid events by tying back to the prior dad meeting theme."
We have learned through our community partners that one successful strategy to engage men is to hold events and post invitations in the places where men naturally gather in any given community. Share what your group is about and when they meet with a simple website, social media groups, local newspapers, bulletin boards in community centres and businesses. When advertising your group, ensure to be responsive by following up with every lead and tapping into the personal and professional networks of those who respond.
It can also be useful to partner with local community leagues, spiritual/religious institutions, schools, and businesses, and other organizations in your community. Use your relationships with these community organizations to identify, connect with, and provide supports to the men they serve who could benefit from the supports your program provides. Identify leaders who you can connect with, or work with organizations and in spaces where men are already meeting. Remember that your group is part of a larger movement. Support others who have connections with leaders and communities (faith, ethnocultural etc) that may not know about your program - reach out far and wide to promote inclusion.
Finally, when new members do join, it can be helpful to have a short, casual conversation with them either at their first meeting, or even in advance over a coffee, to ensure they feel welcome. Tell them a bit more about the group and the resources available.
Ensuring your space/program is LGBT2SQ+ welcoming and friendly
Research underscores that people from LGBT2SQ+ communities will often experience discrimination, rejection, and an absence of appropriate services and supports.
Development of initiatives should be led by community members. Think about ways you can support leaders in your local community or partner with a LGBT2SQ+ serving agency to connect men with your resources.
Find out if there are any gaps that you can fill in the services you provide. For example, provide appropriate training for staff and volunteers so they can work with and understand common challenges faced by LGBT2SQ+ communities. Such training will also help to create an inclusive, accepting environment for members of the LGBT2SQ+ community to raise any concerns they have.
A key to working with men is understanding that there is not just one way, but many ways, to support them. As mentioned earlier, you can increase your understanding of men's diverse experiences by getting them involved in the planning and implementation of your group. The men you are working with will be be much more likely to gain value and support from a group they have had an active role in creating. For an example of a culturally-relevant toolkit, see our Concensus Decision Making Toolkit.